Greetings to all readers of our blog! On the review today we have a very popular bot for trading cryptocurrencies. In this article we will understand all its pros and cons. We will also talk about how to set up a bot. To start making money on it.
Yobit bot is a bot that trades through the world famous Yobit exchange of the same name . The bot is almost universal in terms of system requirements. It does not require a powerful PC or high-speed internet. You must have at least " windows XP " to start using it . And yes, the bot even supports such an old OC as " windows 2000 " . Another important plus is that the bot supports both 32bit and 64bit systems .
You can download Yobit bot from our website
Supported OCs are listed below:
Windows 2000
Windows XP
Windows 7
Windows 8
Windows 8.1 (8.2, 8.3)
Windows 10
Bot benefits:
This software is an automated and improved version of the simple Yobit.net bot bot , which made a fairly good impression when trading on the Yobit exchange. In the updated version of the bot, the developers added an "Airbag" and gave it a significant value! The "cushion" is needed so that you are not bombarded with orders, for example, if the rate began to change sharply and went down. Each order executed for the purchase gives an additional reduction to the scale of the purchase, the maximum value = 3%. Another advantage of the bot is tracking the trading volume of cryptocurrency pairs. If the daily volume on the pair you have chosen is less than 0.5 BTC, then the program will identify the pair as "junk" and notify you about it in the application title.
The bot is absolutely free and works with any cryptocurrency pair on the Yobit exchange!
All three bot tabs work great on the new version of Yobit bot!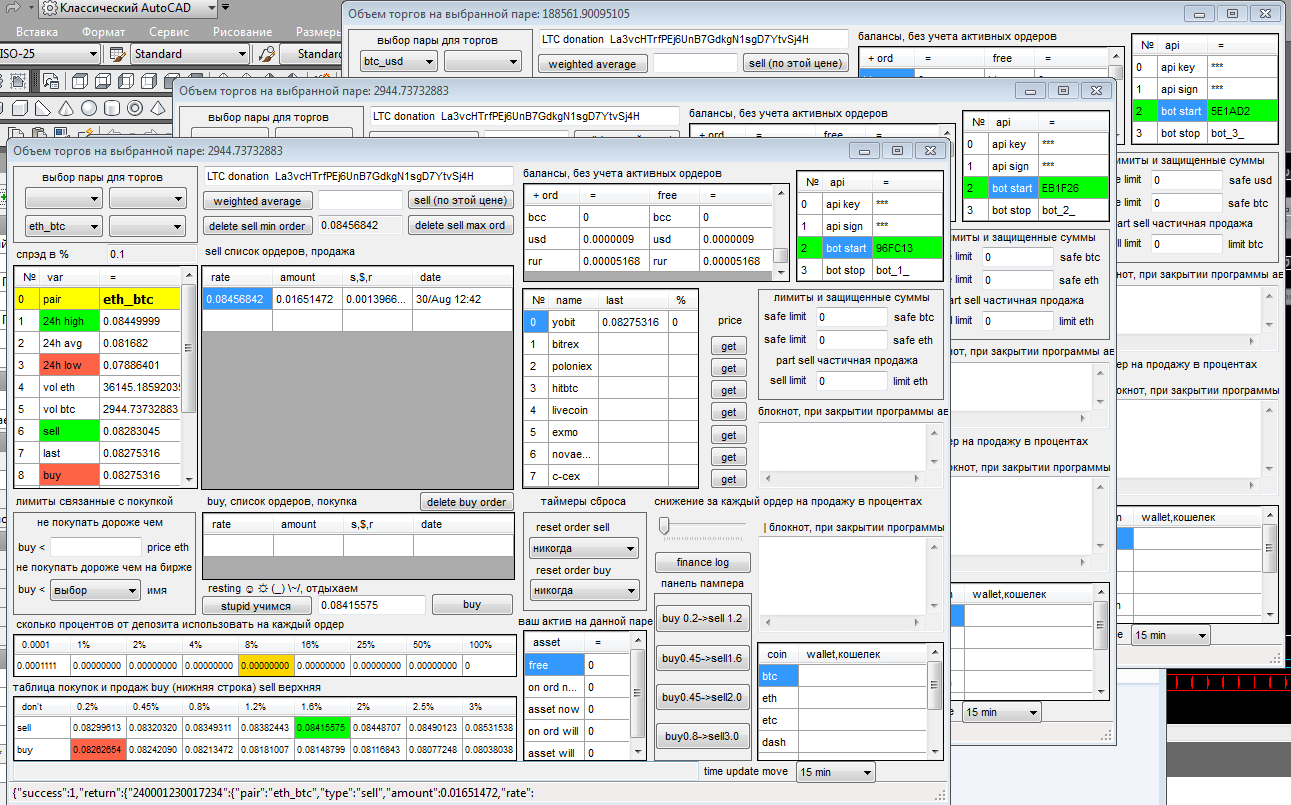 Quick start
1. First weneed togetapi keys onthe Yobit exchange. Keys must have infoandtradeprivileges (they areactivated~10min). 2. Further,enterinemptywindows0and1apikeys. Wereceivedthemafterpassingthe1stpoint._ 3
. After that . We bring the bot into working condition , you need to click on line 2 ( line 3 – means stopping the bot ). 4 . Also , be sure to determine the cryptocurrency for trading . You can select it in the box at the top , combobox . 5 . Further
, we determine the percentage that will be allocated from the deposit for trading from one order.
6. Then , choose how many percent the bot will wind up the purchased cryptocurrency pair.
7 . And the final point. We choose how many percent of the current price to place the first order. Each next will be with a similar reduction .
That 's all . Yobit bot setup is finished . Now the bot can already start working on one of the cryptocurrency pairs you have chosen
Pros:
Convenience of depositing and withdrawing money (one of the most convenient systems)
Ability to work with telegram chat
Simple and convenient setup
Convenient algorithms that bring profit
Minuses:
Very simple design in the style of 2010. (For some, this may be a plus, but personally I put a minus)
Conclusion:
In my opinion, the bot is a great addition to your crypto portfolio. Thanks to the new Yobit bot, you will start earning money in an hour or even 30 minutes. Yobit bot will be a great assistant in your business. I wish you success working with this bot!)